I recently purchased a SkyRaider NetBook Kit from Mallincam that is a great Video Astronomy starter kit. It also makes a really good portable Video Astronomy kit. It comes with a Netbook computer running Windows 10 and either an AGc (color) or AGm (monochrome) camera. Since I already had a MC AGc camera, I ordered the Kit with the AGm camera. The Netbook computer comes with a power supply and has a 10" LCD display and two USB ports. The AG camera comes with a nosepiece, USB cable and a guider cable. I have not used the guider cable yet since I have been using the AG camera for "viewing".

I finally had time to try out my new kit when my wife and I went camping last week. Here is a picture of the contents of the kit (the salt and pepper shaker are not included).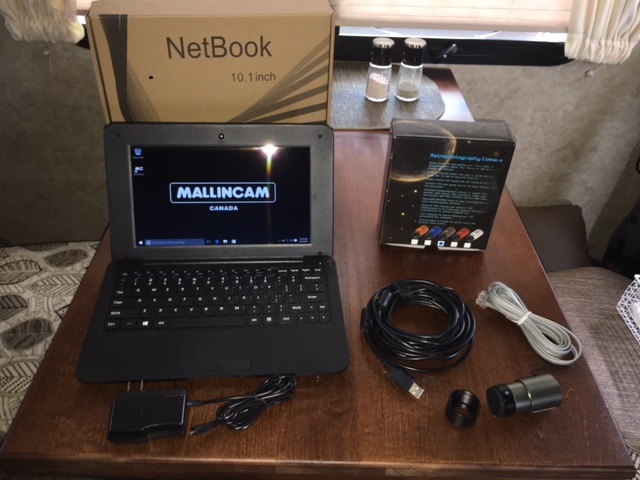 I brought my portable video astronomy mount (SkyProdigy) and telescope (Celestron C5) with me and added a 0.5x reducer to the AG nosepiece before inserting it into the focuser (I did not use any filters). The single USB cable connects the AG camera to the Netbook.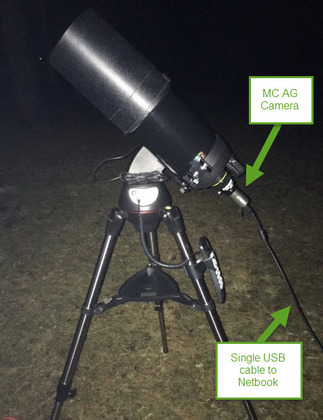 When I first powered on the Netbook I was pleased to find that it was fully charged and the MallinCamSky software already installed. It was ready to go! I took it outside, connected a mouse to one USB port and the AG USB cable to the other USB port and was immediately operational. After performing an auto align, slewing to a bright star and focusing, I was able to begin my viewing session. What a great right-out-of-the-box experience!

Below are some images I captured that first night. I began with the AGc camera since I had used it before, and started with the Orion Nebula. I settled on a gain of 10 and exposure at 10 seconds. I also made use of the histogram function to bring out the detail. Knowing the value of using the Dark Field Correction feature, I covered the end of the telescope and captured a Dark Field using quantity = 5. I uncovered the scope and this is what I saw updated every 10 seconds on the Netbook screen.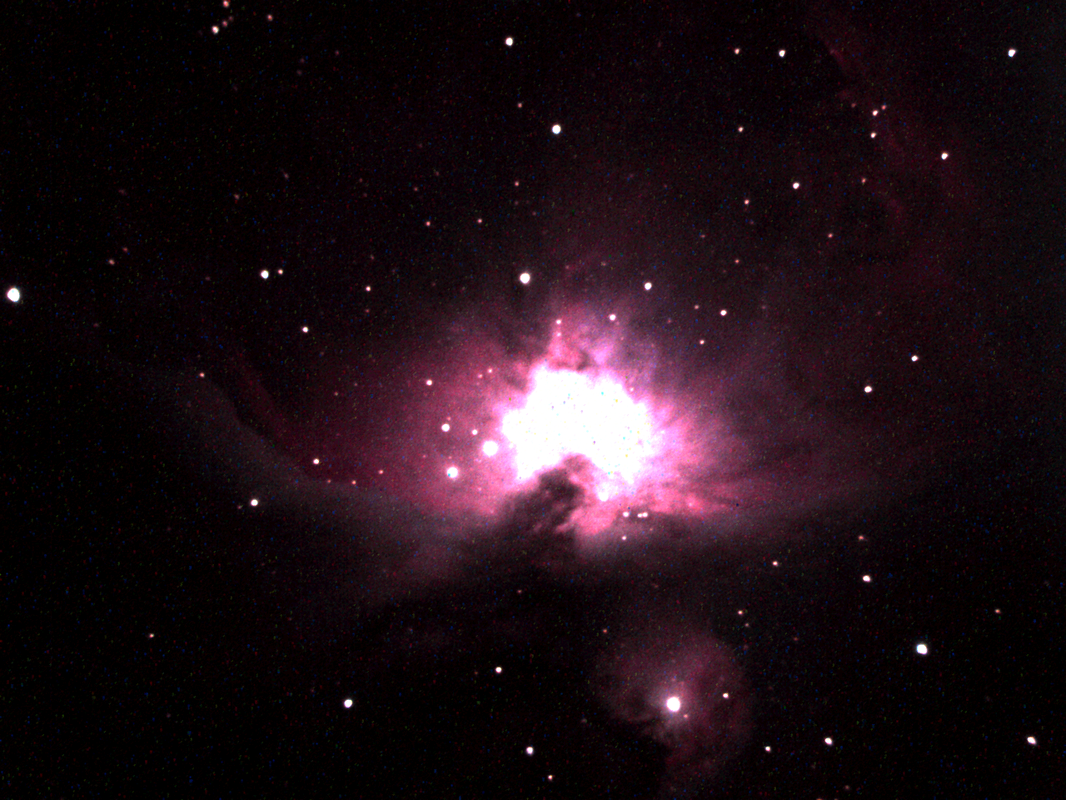 And here is the Crab Nebula.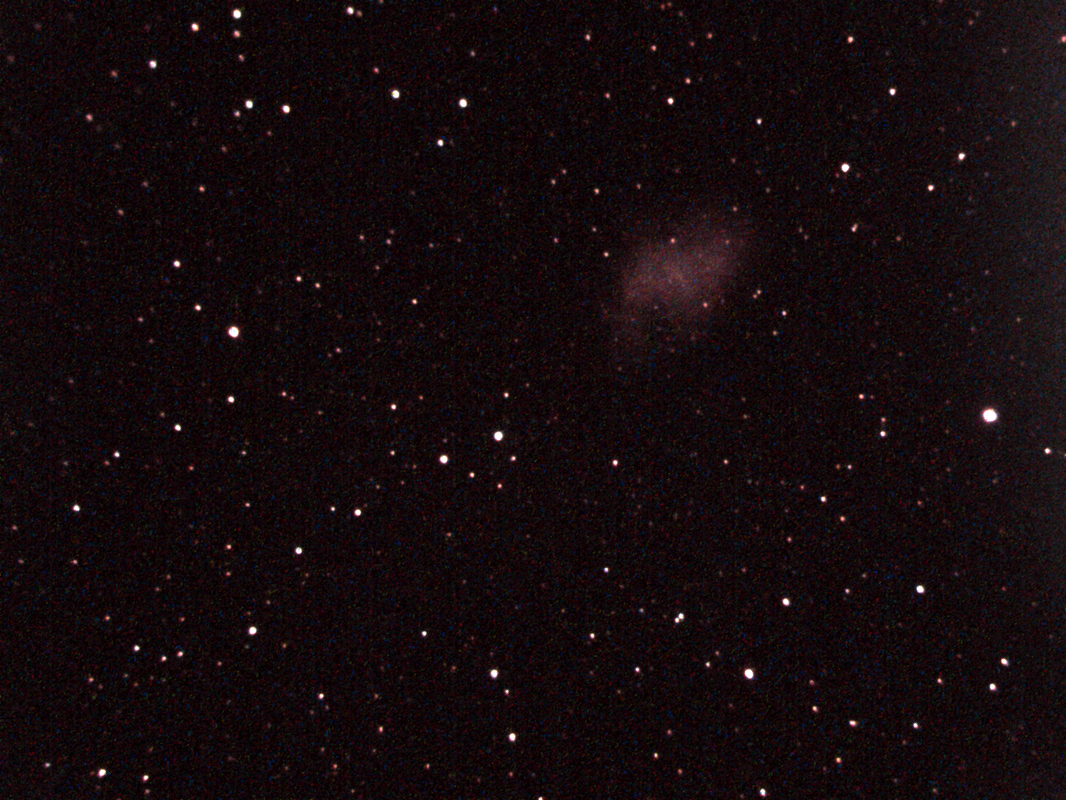 I then removed the AGc camera and inserted the AGm camera. I stayed with the same settings and captured a new Dark Field to use. Here is the Orion Nebula with the monochrome camera.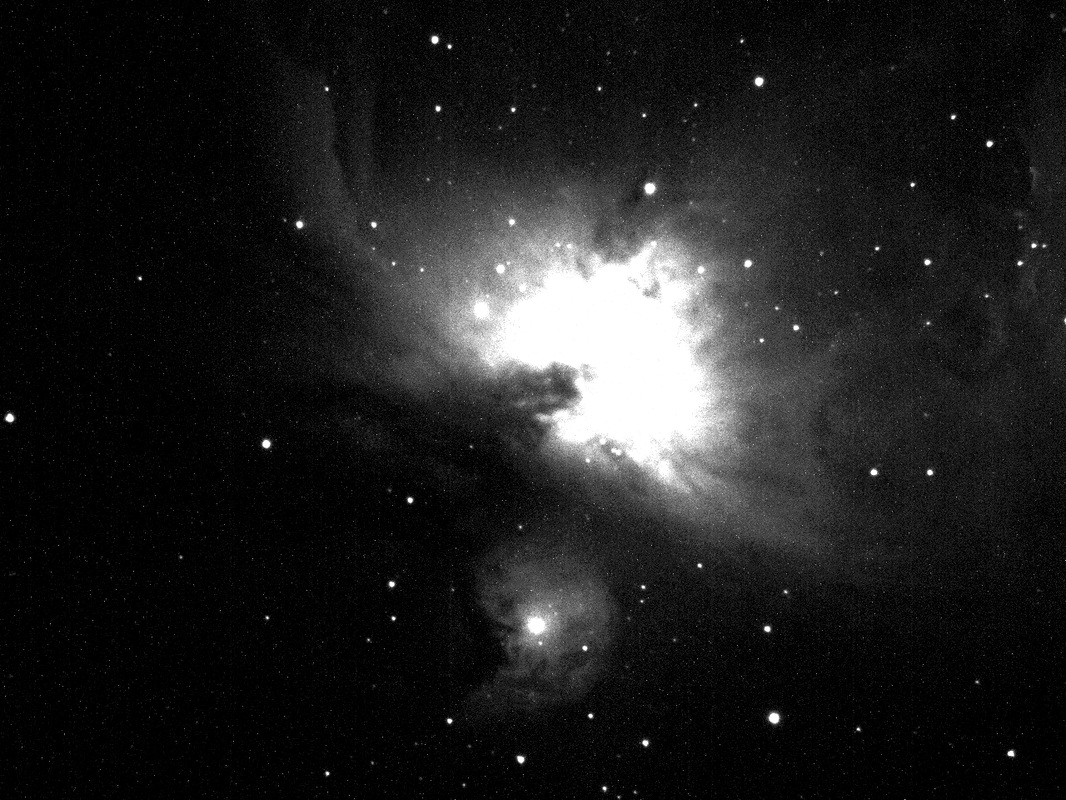 And here is the Flame Nebula.